Another year has come and gone. . .
In this post, I'm just reflecting on the past year, what each month brought, how God has blessed. . .

January 2011
I was dreading sending my girls back to traditional school. The holidays had just ended and the whole family was together, every. single. day. And we just absolutely loved every minute of it. . .

Click HERE to read more

February 2011
For February to be such a short month, it was so completely pack with things to do! Husband and I decided to de-clutter a few places in the home. . .but all the while, the Lord was decluttering our hearts, preparing us . . . February was hectic (click HERE to read more), but God, in His great wisdom, provided comedic relief (click HERE for a chuckle).

Click HERE for de-cluttering ideas


March 2011
When March came, spring fever hit! I wanted to get outside and plant something. The sun was shining more and tulips and daffodils where everywhere! Also, there were 3 months left in my daughters' school year and I was in the thick of planning our 1st upcoming homeschooling year. A friend of mine took me under her wing and answered question, upon question, upon question. . . and she still does. You can read about one of our "mentoring sessions" HERE.


Click HERE to read about my Spring Sunday.

April 2011
This month was full of new things. . .new life! It was in this month that we celebrated the Resurrection of our Lord and Savior, Jesus Christ! When discussing the importance and symbolism of the Passover, my daughter provided a little more comic relief; click HERE for more chuckles. Also, new to my blog. . . Music Mondays made it's debut! I love singing/music and it's just a way for me to share God's gift to me with you. And one of the most special gifts. . .the Lord allowed my womb to cradle life again. . .we found out a couple of weeks before Easter.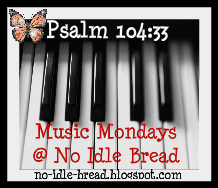 Click HERE for my 1st Music Mondays post

May 2011
I was happily in the throngs of morning sickness during this time and most of my posts were "Music Mondays." Lots of fatigue. I was literally counting down the days until my girls were finished with their school year. I had a few random posts though: HERE is one when I ask God's forgiveness. . .


. . . and another one HERE about laundry :o)


June 2011
Finally June was upon us and the school year came to a close. Please know that for all intents and purposes, my daughters' former school was not "bad!" I have no real horror stories, you won't hear me bad-mouthing the teachers. (In fact, there's one teacher that remains a family friend.) However, God took us in a different direction and we're grateful. We finally shared the news with the girls that school would be a at home from now on!

Click HERE for more on Kindergarten graduation
and school room preparations!
Click HERE for a fun Music Monday

July 2011
It was HOT HOT HOT this summer! My goodness, I think I would blink my eyes and be exhausted and sweaty from just that! LOL We were still My Husband was still working hard to get our school room together. I launched our home school blog, The Chelmont Academy. Also, motherhood weighed (positively) heavily on my heart, such a tremendous blessing, yet a great responsibility. Here are two posts on that: Motherhood is a Calling (And Where Your Children Rank) and Mother's Day at Any Time???

August 2011
After much preparation, prayer, sweat, tears, all of it. . .the school room was finally complete!!! (I'm forever grateful to my Husband for how hard he worked--go Babe!) So, our first home school day began in August and we were SO EXCITED!!! This month is when I also shared with you, my sweet readers, that my Husband and I were expecting our baby boy. Here are the two posts that share our journey: A Mother's Confession: Of Sorrow and Joy (Part 1) and A Mother's Confession: Of Sorrow and Joy (Part 2)

Click HERE to read about our 1st day of school


September 2011
So school started and I was knee-deep and elbow-deep in schooling these kiddos each day. It didn't take us too long to get into a routine and it just felt good. With everything that was going on in our lives, we wondered why we hadn't home schooled before now!?!? So much convenience and flexibility! With motherhood still on my mind, here was another post I shared: Do I Need a Break?

October 2011
I don't know why, but for some reason, October tends to be a busy time in my life. . .I'm still trying to figure that one out. Anyway, I joined a few challenges to help keep me grounded in the things important in my life (my faith and my family!).
November 2011
Oh, boy! Was this a full month! I was busy trying to prepare for our little one, whom we were expecting sometime between Thanksgiving and Christmas. I wanted to get my children as far along in their schooling as possible, so we kept on pushing forward. Our dog had puppies. . .have mercy! Then of course, we celebrated Thanksgiving as a family (click HERE) daily almost daily noting of the blessings God has given.
December 2011
Alas, we reach the end of the year. God has done so much and I am so grateful. . .still in awe of how wonderful He is. This month was a celebratory month. . . the birth of my precious baby boy and of course, the birth of the Holy Babe. Lots of love, lots of joy. . . much to be thankful for!!

Click HERE for JD's intro post!
Click HERE for our Christmas Traditions
and HERE for a cool, "modern-day" Nativity Story


Thanks for taking time to review the year with me. I pray that God would greatly bless you and your families for the coming new year. May you be used for His purpose!!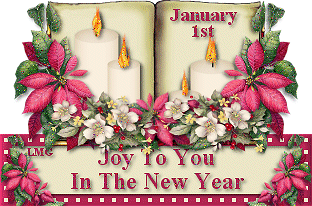 by
Stacie
on
Saturday, December 31, 2011
Another year has come and gone. . . In this post, I'm just reflecting on the past year, what each month brought, how God has blessed....