Well, the summer schedule is officially over, and we have moved on to our regular schooling schedule. This was our first week back and it has been full and interesting. The kids have been excited all week and have been putting forth great effort. I have been busy trying to keep up with our new schedule and making sure I don't fall behind in the logistics: checking work, filing papers, creating lists, and preparing for the next day.

I must say that each day has not gone exactly as I've planned and I am learning that is okay. There are 2 bits of wisdom that I have purposed to begin the school year with:

Feel free to chose motherhood first. Life happens right in the middle of our schooling ALL. OF. THE. TIME. Although my children need to be well-educated, they also need correction, training, love, cleaning, nurturing. . . and the list goes on. So, when a dirty diaper, cranky toddler, or poor attitude interrupts our school plans, I choose being a mom. And I'm learning to make that choice freely, without hesitation, without frustration that our school day isn't going as planned, and without worry that we're going to fall behind. I'm not perfect at it yet, but I am intentional about applying it.
Try again tomorrow. This three-word sentence is so encouraging. It echoes the promise of Lamentations 3:22-24. . . . God's mercies are new EVERY morning. So long as God graciously gives me tomorrow, I know that a fresh, new, heaping portion of MERCY will come with it. Literally, every single day this week, there has been something that I did not get to do that I wanted to do with the kids. But, I knew I could walk away from the end of the day knowing I tried and that, God willing, I get to try again tomorrow.
Baby J: 5 months old

Upon entering our 3rd year of homeschooling, I've taken this summer to reflect. In our first two years of homeschooling, I was pregnant with #4 and then with #5. Because of a new baby's impending entrance into our family, I had this "squeeze-in-every-thing-you-can-because-you-don't-know-when-you're-going-into-labor" approach to homeschooling. Looking back on that, I'm realizing, pregnant or not, that is a sure way to frustration and burn-out--trying to squeeze in every lesson I can. The Holy Spirit is teaching me to calm down on purpose, and to accept that I can't "do it all" and that is okay. If I could do it all, then when would I ever depend on the Lord for what I need? So I am grateful for my new "two-step" approach. :)

Here are some pictures from our week, including a school room tour and some interesting insects we found outside.


Welcome to Chelmont Academy:
Our one-room, stand alone, school room.
The pictures will go to the left from this door,
all the way around the room.
Calendar/U.S. Map
My sweet kiddos/World map
Curriculum shelf/Library book basket
TV/Preschool corner
Preschool corner w/ cute little toddler :)
Mom's desk/printer/computer
(I obviously didn't clean up before taking the pic.
Real life, ladies!)
Art supplies/puzzles/games
(This is just to the right of the door.)
1st grader (JR) working on his time line
5th grader (SJ) reading in the atlas.
3rd grader (TM) reading in a history book.
Toddler toes (JD) and JR's timeline.
Praying Mantis we freed from a spider's web.
Weird-looking cocoons. . .
. . . .with strange caterpillar-like creatures coming out.
Insects just aren't my thing! LOL But my kids insisted on pictures, along with
daily checking to see what's going on.

Edited to Add: To our surprise, these aren't cocoons or caterpillars. They are bag worms, a type of pest,
that are having a grand old time eating up dwarf spruces!! (Disgusting!!). If you want to
know more, check out this post!



Taken outside of the school room on our 1st day.
They were happy to be back in the school room, since
we'd been schooling at the kitchen table since Baby J was born.
How are things going in your homeschool so far? What lessons are you learning already?
Happy schooling!!
Linked with: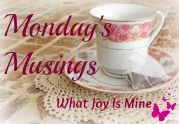 by
Stacie
on
Friday, August 30, 2013
Well, the summer schedule is officially over, and we have moved on to our regular schooling schedule. This was our first week back and it ha...