My Son's Birthday! (Music Mondays)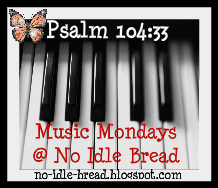 Today is my son's birthday. He is officially 4 years old and boy, is he proud!
I am thankful for my son, my live-in super hero, protector against all enemies, real or imagined. He is such a source of joy and laughter in our lives and we are so grateful for him. I must say that each day of having him as my son is a complete adventure.
You see, after having 2 daughters, I became used to all things girly and had an automatic, built-in understanding of the all the female quirks of a young lady in the making. But oh, to have a boy! It has been a SUPER fun learning experience. It's amazing to see how God created this little boy--just so intrinsically "manly" yet my "baby" at the same time, with glimpses of how he'll be when he's a grown-up man. Simply fascinating!
So on to the music part, right?! Here is our family singing happy birthday to our brand new 4 year old!
My Husband's "lovely" singing voice! LOL
He does it all the time to make us all laugh.